Our story
Like so many entrepreneurs before us, we got started by solving our own problem. A few years back, we grew anxious about the fashion's toll on the environment we all love. The obvious place to start was to shift our own behaviour as consumers – however, it wasn't as easy as we first thought.

We were faced with a lack of options that wouldn't make us choose between our values and what we appreciate in clothing. Drops and hype cycles continued to tempt us. The smoke and mirrors brands hide behind made it difficult to trust any of them. Soon we decided that voting with our dollars wasn't enough; we needed to do more.

New Standard was founded on the idea of change. We see that transforming the fashion system is necessary to face humanity's greatest challenges across the environment and climate. Furthermore, we believe everyone can make a difference. That's why we want to work together with retailers, manufacturers, brands, policymakers, artists, technologists, and you to drive the systemic change in fashion towards greater environmental integrity.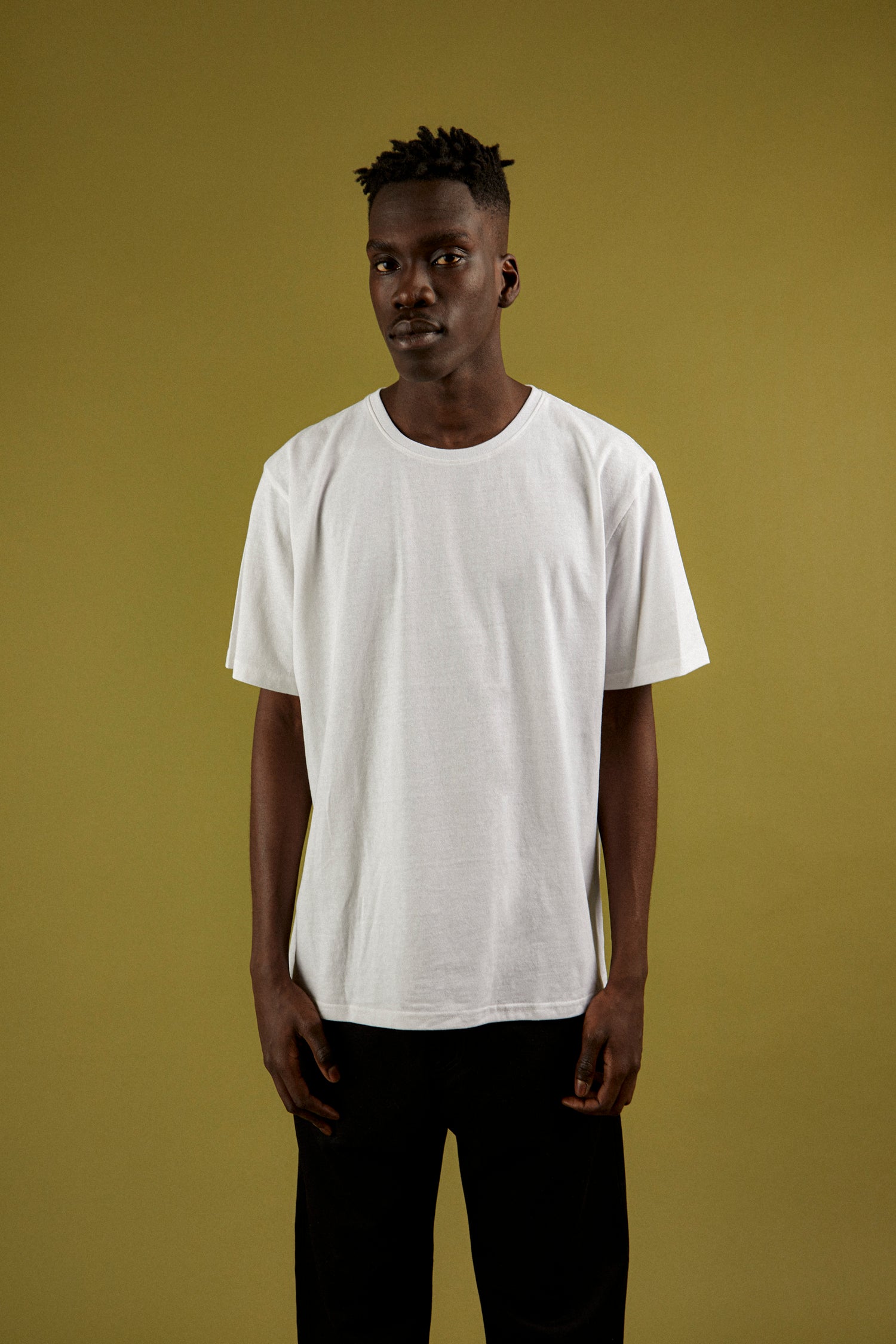 Fewer, better clothes
Recycling and material innovations are good for nothing, if we don't slow down consumption. That's why we don't chase trends or follow seasons. Instead our sole focus is on perfecting a permanent collection of essentials that weave together style, quality, comfort and responsible practices. Our clothes are inspired by yesterday, designed for now, and constructed with the future in mind. They are building blocks of a wardrobe that stands the test of time. The oufit for the post-growth era.
From waste to your wardrobe
We make our clothes from 100% recycled materials. Our primary raw material is recycled cotton made from the textile industry's cutting waste. As sustainability and quality go hand in hand, we blend it with recycled polyester from plastic bottles. This makes the yarn stronger, allowing us to produce durable fabrics and clothes that last. This is how we give new life to the fabric that would otherwise go to waste.
1. Collecting

Cutting waste is collected at factories and sorted per color and quality.

2. Recycling

Sorted waste is opened into fibers that will determine the end product's color.

3. Blending

Recycled cotton fibers are mixed with recycled polyester fibers.

4. Spinning

The 100% recycled blend of these two fibers is spun into beautiful yarn skeins.

5. Knitting

The yarns are knitted or woven into fabric depending on what its used for.

6. Finishing

Finishing of the fabric can include stages such as compacting or brushing.

7. CMT

The final product is cut, made, and trimmed to the highest quality standards.

8. Finished product

The end result is a garment made with minimal environmental impact.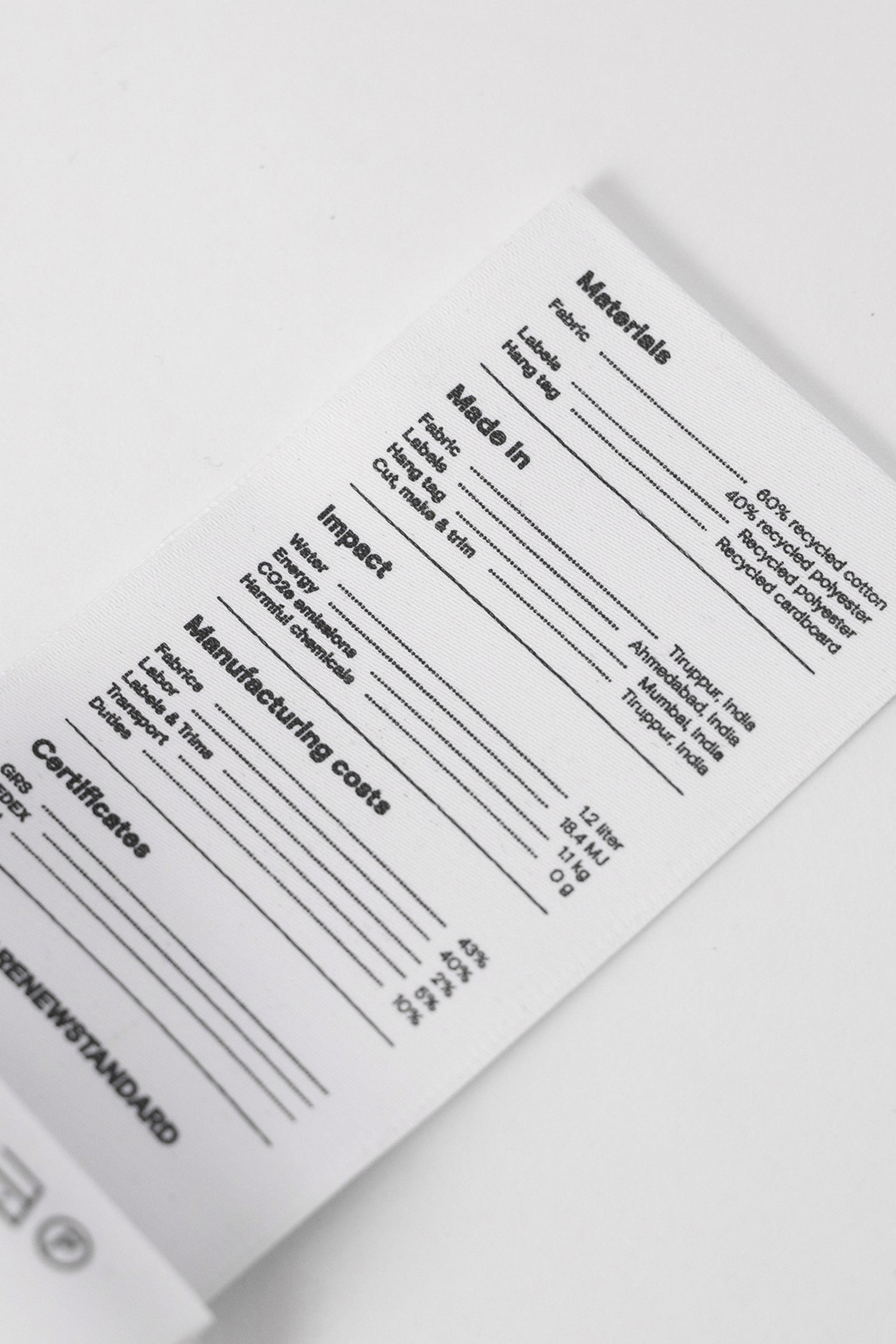 Informed, better decision
Fashion needs to stop hiding behind the smokescreen. We have nothing to hide and make a conscious efforts to disclose as much as possible about our clothes' value chain to empower you to make informed – better – decisions. We realize the term 'transparency' can bring your cards up. We get it. We are sick and tired of fashion's greenwashing problem too. However, being open and honest about what we do and how we do it is the best way to shift the power to the consumers – where it belongs.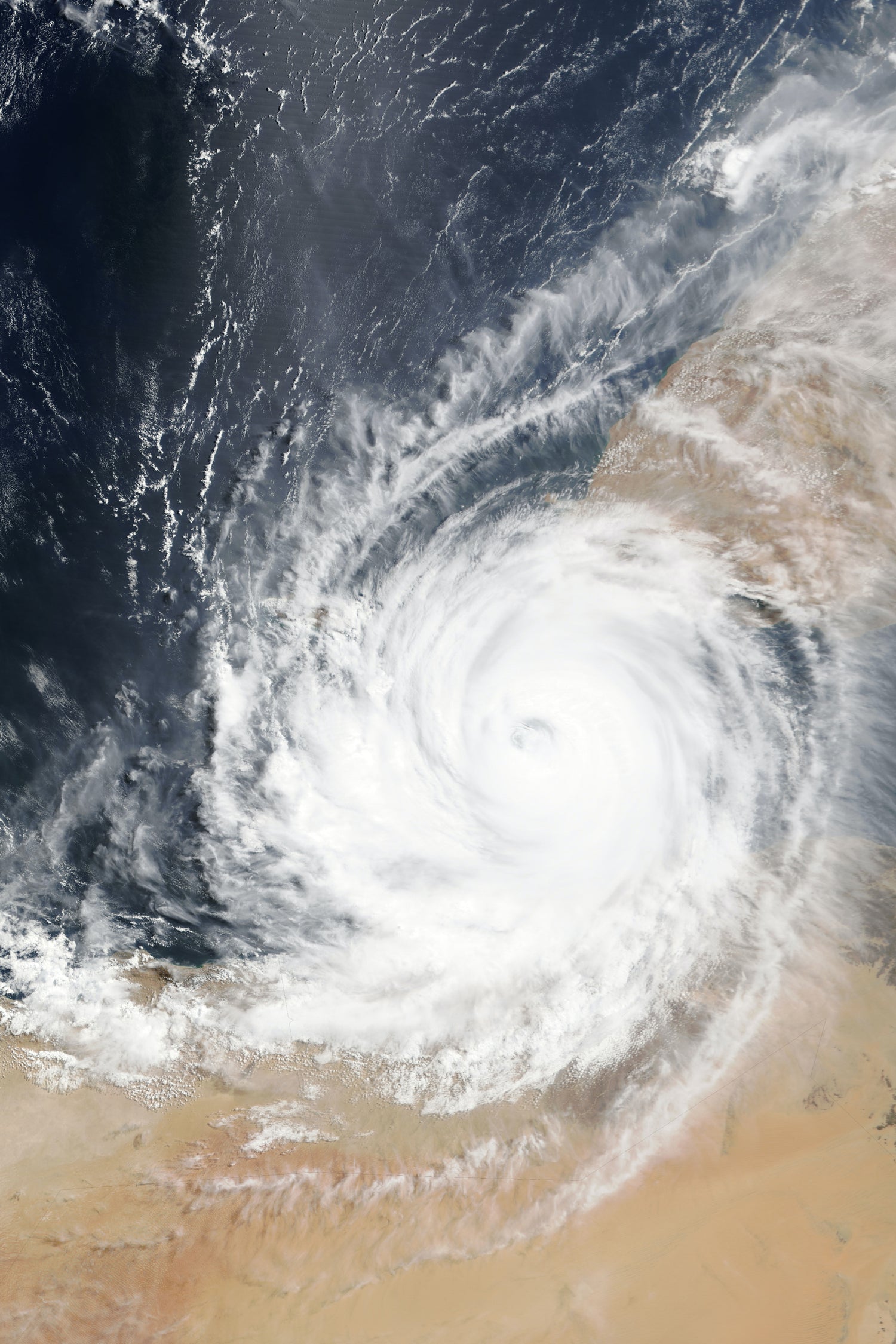 For people and the planet
From rising sea levels, to extreme rainfall and more powerful heatwaves, the consequences of climate change can no longer be ignored – either by society or the fashion industry. Half measures won't halve the emissions, so we went all in. Manufacturing our t-shirt requires 99.9% less water, generates 50% fewer CO2 emissions, and uses 50% less energy than making equivalent product from virgin materials. It' far from net zero and we will continue to harness innovation in our industry to meet the needs of today without sacrificings those of tomorrow.
Because what you wear matters
We've aimed to minimize the environmental impact of the clothes we create – see how we compare to t-shirt made of virgin materials.